INTERVIEW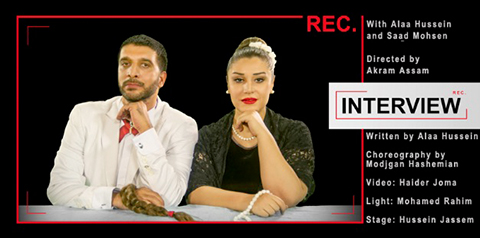 Criticising the impact of traditions and cultural practices that a society holds against women, 'Interview' is a play that crystallises the ongoing controversy concerning the everyday status of Iraqi women.
Using elements of melodrama, dialogue, multimedia and dance, the performer Alaa Hussein along with Saad Mohsen manage to deal with delicate details of a woman's daily life that are imposed by society trends and traditions. Based on the book "Eyes of Inana – Anthology of Iraqi Female Contemporary Writers", the play dives deep into those corners and fills the stage with images that deserve reconsideration.
Interview Trailer from Hella Mewis on Vimeo.
CREDIT TITLES INTERVIEW:
Directing: Akram Assam
Text: Alaa Hussein
Performers: Alaa Hussein and Saad Mohsen, Shayma Jaffar and Kamel Ibrahim (on video)
Choreography: Modjgan Hashemian, Germany
Video Arts: Haider Joma
Light Design: Mohamed Rahim
Stage Manager: Hussein Jassem
Typ of the Show: Theater – Performance
Co-production of: Al Noor Foundation for Media and Art (Iraq) and EMCUE e.V. (Germany)
Touring Crew (8 persons from Baghdad):
Akram Assam (director), Alaa Hussein (actress), Saad Mohsen (actor), Haider Joma (video), Mohamed Rahim (light designer), Hussein Jassem (stage manager), Saad Majid (decoration), Hella Mewis (coordinator)
Supported by: Goethe-Institut, U.S. Embassy Baghdad, National Theater Baghdad